Heating and Cooling - Repair: 'Tis the season for home efficiency

(ARA) - As the cold weather and holidays approach, homeowners are preparing to spend more time indoors. Winter utility bills can get expensive, and in an economic climate as biting as the frost, consumers are watching every penny. From insulation, to appliances, to faucets, these upcoming months are an opportune time for homeowners to make their homes more efficient, reducing costs and the family's carbon footprint.
Aside from the more obvious advice, such as unplugging electronics when not in use to avoid phantom draws, many long-term solutions will help you save energy and water every day without any added effort.
"Homeowners are very aware of their responsibility to use less water and energy each month, both for environmental and cost-saving reasons," says Paul Patton, senior product development manager at Delta Faucet Company. "But as the weather gets colder, few are willing to give up their long, hot showers."
Patton adds that while changing habits and behaviors is worthwhile, homeowners should also consider products that are engineered to offer comparable experiences with built-in efficiencies.
Here are five easy home improvement tips to help make your home more comfortable and efficient this winter:
Replace your windows: Energy-efficient windows can save families a lot of money in the long run and although replacing them can be a significant investment, fall is the perfect time to replace old windows before the freezing temperatures blow through. Some replacement windows can be built to meet or exceed Energy Star standards in all climate zones, making your home more comfortable and efficient.
Install ceiling fans: You might think that ceiling fans are only for the summer months but in the winter, a ceiling fan can push heat down from your ceilings, circulating warmer air around the room. Your heating system won't have to work as hard, cutting heating costs.
Install a water-saving showerhead that doesn't sacrifice the experience: Warming up in a hot shower on a cold morning doesn't have to feel like a guilty pleasure. Delta Faucet offers water-efficient H2Okinetic Technology (R) that blankets the body in a warm spray while using up to 36 percent less water than the industry standard of 2.5 gallons per minute. The technology manages droplet size, velocity, spray pattern and thermal dynamics, which ultimately covers the bather in larger water droplets that retain their heat longer. More than 50 percent of Delta bath suites feature showerheads and handshowers that meet the latest specification introduced by the U.S. Environmental Protection Agency's WaterSense (R) program.
Dodge the draft: Check for drafts and potential air leakages around doors and windows, in the attic and basement, and throughout the home. To locate drafts, aim a fan at the cracks outside of doors and windows. On the inside, have someone hold a lit candle. If it flickers, you have a draft that you'll need to treat by sealing with caulk, spray foam or weather stripping. Or have a professional conduct an air leakage test using diagnostic equipment. They can make specific recommendations to improve the energy efficiency of your home.
Install a water-efficient faucet: Often we let our faucets run longer than needed, wasting water and running up our monthly utility bills. The Linden (TM) pull-out kitchen faucet can help reduce the amount of water homeowners use in the kitchen with a water-saving default flow rate of 1.5 gallons per minute. For bigger tasks such as filling a pot, a simple toggle on the wand will increase the flow to a high-performance setting.
Remember, this year as the temperature falls, so too can your monthly utility bills. Many federal, state and municipal incentives will reimburse you for making your home greener - saving you green as well. Check out the Department of Energy website for more information on tax credits for which you might be eligible. Taking on a few easy DIY projects around the house could mean significant savings in return..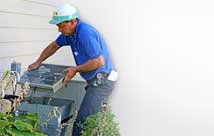 | | | |
| --- | --- | --- |
| | | Respond Home Services Directory lists the top Contractors in your area, organized by specialty and office location. |