Pest Control: How to take pest control and prevention into your own hands

(ARA) - Warm weather welcomes more than just outdoor barbecues, summer vacation and vegetable gardens - it brings back the pests that like to annoy us. Insect problems are more than just irritating - they can potentially pose serious risks. If you're struggling to solve a pest problem in or around your home, and don't want to pay for someone to solve it for you, there are DIY solutions that are effective and affordable.
"While not all insects are harmful, some, such as ticks, mosquitoes and fleas, can carry life-threatening diseases," says Larry Coltharp, director of insect control research and development with Black Flag, a leader in pest control solutions. "Some insects prefer building dangerous nests outside your home, while others find little voids to creep inside and then lay eggs in hidden areas around your house.
This is when it can become a serious health threat to small children and pets, and becomes necessary to treat your house to remove these risks from your environment."
A new product from Black Flag, Extreme Home Insect Control, is ideal for DIYers looking to solve or prevent bug problems on their own, especially in today's tough economy. The Pump 'n Spray unit, available at Lowe's for around $16, offers an average savings of $100 versus calling a professional exterminator. It's simple to use and proven effective in killing 47 types of insects, both inside and outside of the home.
The new system creates a long-lasting perimeter of defense against bugs, notably up to nine months against German cockroaches. The 1.33-gallon Pump 'n Spray container requires just 12 to 15 pumps to produce up to 10 minutes of continuous spraying. Children, pets and adults can enter treated areas once the spray has fully dried.
For maximum protection against pests, Coltharp recommends applying the spray around the perimeter of your home, indoors and out. Prevention is the best solution - so spray all possible points of entry for insects, including doors, cracks, crevices and exterior windows. Don't forget to cover areas like the attic and garage.
Courtesy of ARAcontent.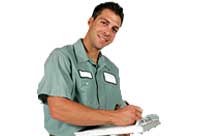 | | | |
| --- | --- | --- |
| | | Respond Home Services Directory lists the top Pest Control Companies in your area, organized by specialty and office location. |